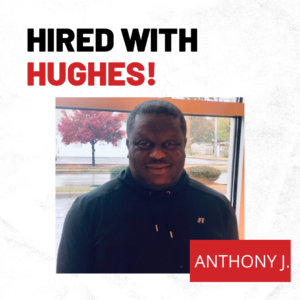 Meet Anthony! He's one of many that we have hired. It brings us joy to be able to help many Arkansans find great careers with our help. Learn more about Anthony's experience with us.
Tell Us About Yourself
I am a father of 3 kids. I have been married for 11 years. I love sports and I love to watch movies.
What made you choose The Hughes Agency?
I love the small work group we have and I have great leaders. The company is really great, and they are very open and nice. I like that they know everyone's name. I had heard people talk about the different jobs they have received from Hughes, so I wanted to see what Hughes would do for me. They gave me an opportunity to get a good job with an awesome company.
What would you say to others who may be considering The Hughes Agency?
Come in and see what this great agency can do for you. Just take the time to invest in your life and they will do all the work to place you in a great job that you will really love.
Are you have trouble finding a good job? No worries. Apply for one of our open positions today. We'd be glad to help!