Meet This Month's Hired With Hughes Spotlight, Scott!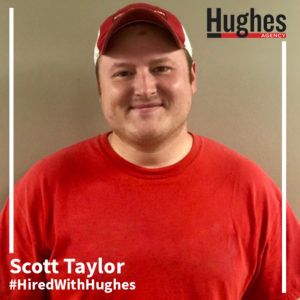 Scott moved to Arkansas a few years ago and has worked with The Hughes Agency previously. After submitting his application, we helped Scott land a full-time opportunity! Learn more about how Scott got Hired with Hughes.
Tell Us About Yourself
I'm a father of three and just moved to Little Rock a few years ago. Previously, I worked in the food industry and was happy for a change.
What Do You Like Most About Your Job?
I really enjoy the people I work with, but also the people I meet while I'm out on deliveries.
What Made you Choose The Hughes Agency?
I've used The Hughes Agency before and really liked their professionalism. I also appreciate their ability to get me working quickly.
What Would You Say To Others Who May Be Considering The Huges Agency?
When my previous employer went out of business, I thought it would take weeks to find a new job. The Hughes Agency helped me find a new job within days! I highly recommend them and would not go anywhere else.
Whether you're looking to get out of the rut of an unrewarding job or to finally end the cycle of unemployment, let us help match you with your new career today. Learn more by setting up an interview with our experts.
We are currently staffing clerical and industrial positions, so be sure to check out our jobs page on our website!